Our students say that Burkwood Farm is more than just learning to ride, the farm for many of the riders is a second home and where the "barn fam" helps one another succeed in their passion.
Riders are encouraged to constantly pursue their passion and knowledge about good horsemanship. Each month Riders present research on Horsemanship Skills or Horse Management. This is to help aid each rider in understanding their horse and equipment better, giving them knowledgeable life skills for a lifetime of horsemanship.
While riding your horse you are gaining many physical benefits, while this might be surprising to some it will not be a surprise to the rider. There are many benefits to horseback riding such as; strengthening of muscles, reflex acceleration, prevention of muscle cramps, increased joint mobility, boosting the cardiovascular system, balance, core strengthening, improving blood circulation, stimulation of sensory integration, improved visual perception of space, the development of responsibility, patience, self-discipline, increased self-confidence.
Did you know that riding a horse at a walk stimulates the internal organs just as walking on foot does? This aids in liver function and digestion. You will burn calories at the rate of 5 calories per minute, increasing the speed and ride duration will increase the intensity of your work out and burn more calories.
As you care for the responsibility of your horse, groom, clean stables, carry saddles, bales of hay your helping maintain bone mass, and burning calories. Simply being outside, enjoying Burkwood Farm you will boost your general wellbeing which will act as a stress buster. The freedom you feel when you ride is second to none!
Mental -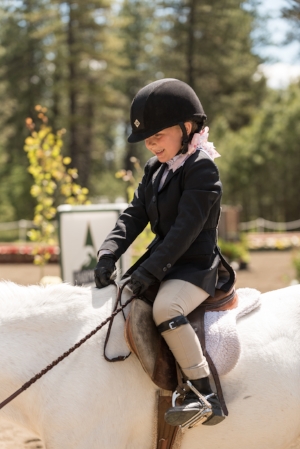 As a beginner rider you will find just staying on and steering your horse will be a challenge enough. As you progress with riding and being around horses you will have a lot of questions. Do not fear there is always something new to learn in equestrian riding. We offer many clinics to help us as well as learning together at "barn family" meetings. This learning about your horse is life long and research has shown that life long learning may prevent memory loss. Just like your muscles your brain need exercise to keep young and supple. Riding provides an active avenue to keep your brain exercised.
Emotional -
For many riders a horse is a connection with nature. Riders find companionship while riding and working with their horse. Being around a group of other riders that enjoy what you do brings a sense of acceptance and belonging. In times of stress a horse can be that quiet friend who is without judgement.